Emperor's Emporium is a great place to get your Hawaiian souvenirs and products made in Hawaii. On the South Shore of the island of Kauai, Hawaii, in the small town of Koloa, up the road from Poipu, is our mother retail store that has been in business for over 20 years. Emperors Emporium carries jewelry including necklaces, bracelets, rings, toe rings consisting of heirloom jewelry, gold and sterling silver jewelry, Hawaiian jewelry, fashion jewelry, black pearl jewelry, local shell jewelry, gemstones, crystal jewelry, and shark teeth jewelry.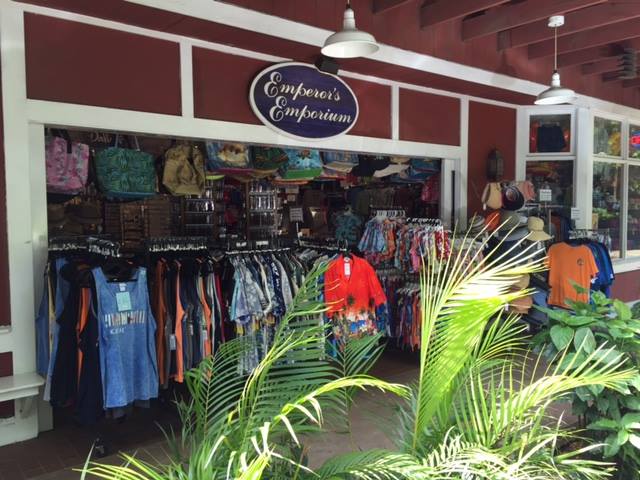 We carry women's Hawaiian wear including dress and shirts. We have women's Hawaiian long sleeve shirts, Women's Hawaiian short sleeve t-shirts, Hawaiian sweatshirts and women's hats including beach hats. We have a big selection Of Hawaiian and Kauai specific shirts and sweatshirts available for men and women.
In men's apparel we carry Hawaiian Shirts with brands such as Tommy Bahama and Red Dirt Shirt. We have men's shirts, board shorts, bags, and hats.
In our kid's department we carry kids' and babie's Hawaiian clothing. We also carry Hawaiian children's books, Hawaiian stuffed animals, and Hawaiian beanie babies.
Our selection of hats for both men, women, and kids include straw hats, life guard hats (and sweatshirts) , beach hats, ball caps, mow hats, along with unisex sweatshirts and t-shirts.
Emperors Emporium is a great place for accessories and gifts including authentic Hawaiian products. We have all kinds of bags, Hawaiian back packs, beach bags. More authentic Hawaiian gifts and accessories we carry are wooden turtles, glass sculpture, Don Jo Sculptures, sharks' teeth, Hawaiian shot glasses, thimbles, Hawaiian stickers, Hawaiian music,  Hawaiian souvenirs, flasks, Hawaiian wooden bowls, hard wood, Hawaiian mugs, Sarongs, pareos, Hawaiian Christmas ornaments and much more.  Other brands include Tank Stream Australia, The Islander Group, Creative HandiCrafts, Island Essence, Lake Shirts, Happy Shirts, Lazer Gifts, and The Madden Corp.